New templates for the New Year
As we ring in 2018, Squarespace is rolling out some new templates—8 to be exact—all within the Brine family of templates.
They all share the same underlying structure, but each one has a unique look and a specific use in mind.
So, let's break it down. The good, the bad, and the ugly—although we probably would never call a Squarespace template ugly…
What we love
Now, this is a holiday card done right. The fonts and heading sizes make for bold section headers and long-form text that doesn't feel overwhelming.
What to look out for
Try breaking up your site with a gallery page between sections, or by having some sections with photos and some without. This will keep people scrolling as you take them through your year.
Best use
Newsletters, timelines, or anything photography heavy. We also think this would be great for a non-profit looking to make their annual report more than a flat PDF.
What we love
We're about to have a party just to use this template. Use the Form Block to get your guest list sent right to a Google Doc.
What to look out for
This template is using one of our favorite Brine features on the home screen—a fullscreen video layered under a bold headline. Just edit the banner thumbnail to link to a video. The video will loop giving it the feeling of a never ending GIF.
Best Use
Parties and events of all kinds!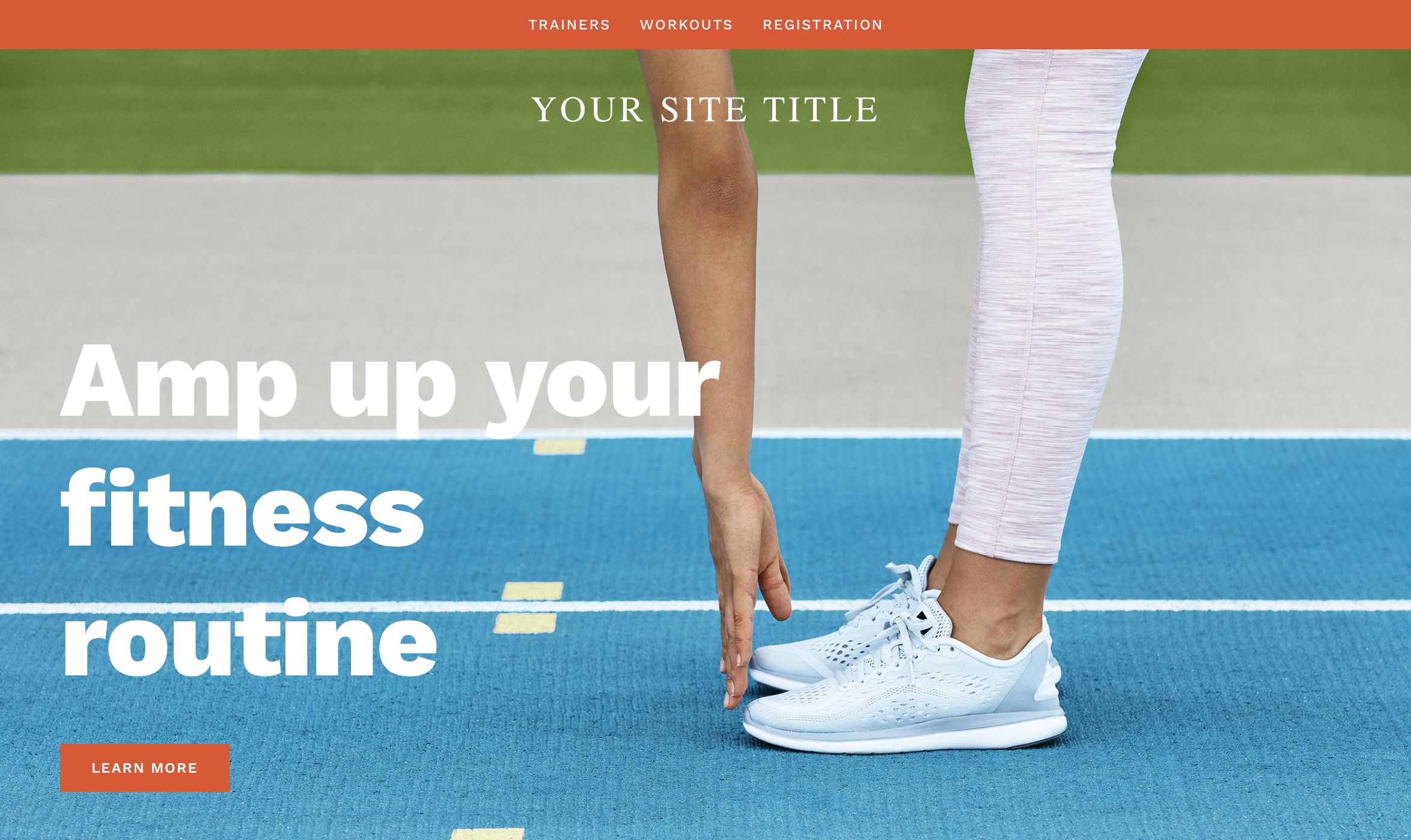 What we love
Bring some vibrancy to your business. This template uses bold colors and collage style photos to keep your users scrolling.
What to look out for
This template uses the Accuity Block for appointment scheduling. This feature is only available to Business or Commerce Squarespace accounts and you'll need to be an Accuity subscriber to use it. Read more about premium features here.
Best use
Appointment-based businesses like personal trainers, dog groomers, or psychics
What we love
This simplistic and organized template is perfect for sites that are heavy on content. Take your readers on a journey through your brand story with photos, text, quotes, and large CTAs on a long scrolling home page.
What to look out for
The template features a Donation Block, but remember that this is only available to users with a Business or Commerce account. You'll also need an account with Stripe, an online payments platform, to accept donations directly from your site.
Best use
Nonprofits and cause based businesses
What we love
The scrolling gallery on the homepage is perfect for showing off your space. This is also a perfect template for prominently featuring details like a menu, hours, and address.
What to look out for
The Newsletter Block shown in the template is only available to users with a business or commerce account, and you'll need to link it to an existing MailChimp or Google Drive account.
Best Use
Restaurants, galleries, or any business looking to show off their brick-and-mortar space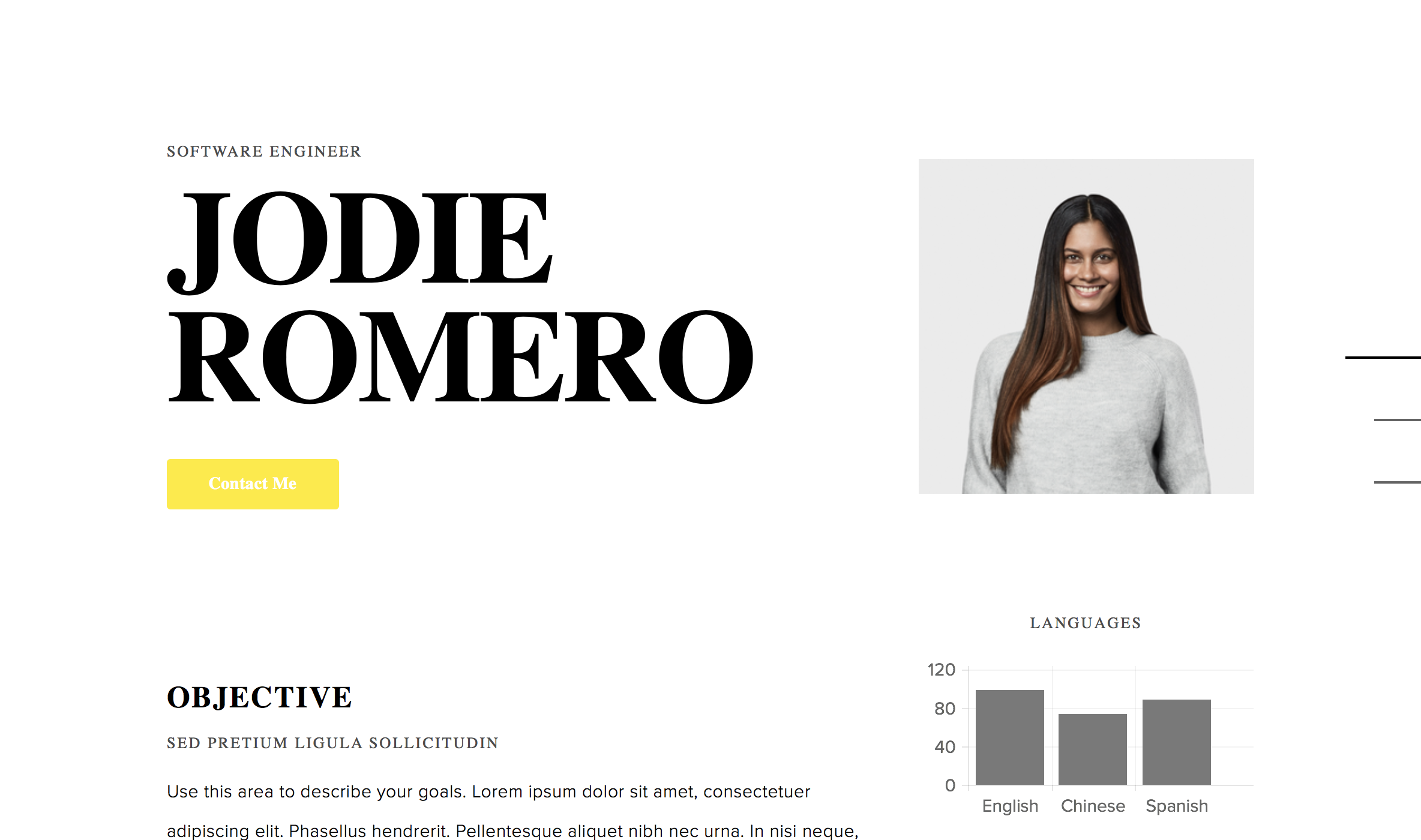 What we love
Finally, a web presence for people looking to show off a few skills, some contact information, and nothing more. There's no need for a ton of high quality photos here. Let the bold text and graphics speak for you.
What to look out for
Break your resume up into sections so that people can hop around your site with the minimalist sidebar navigation.
Best Use
Personal resumes for freelancers and job seekers of all kinds
What we love
We're so inspired by the use of videos and GIFs in this template. This style would be perfect for anyone looking to bring their customers into a dynamic and colorful space.
What to look out for
Just like in Royce, edit the fullscreen video on the homepage by linking a Youtube video to the banner thumbnail. Play around with layering video under photos for a unique look.
Best Use
Stores and boutiques with beautiful goods to display
What we love
Share the love! Paper invites are no more. Take your guests (and Facebook stalkers) on a whirlwind journey of love with the Vow template. The collage style photo and text overlays feel like a classy scrapbook, and while Emily Post might not approve of online RSVPs, it beats the hell out of those tiny return cards.
What to look out for
Don't forget that Squarespace supports a Zola registry block right on your site. While it isn't featured in this template, it feels like a no brainer.
Best use
Don't stop at weddings! This template would be perfect for anniversaries, bar mitzvahs, or any event where people may cry tears of joy.
Remember that a template is just a starting point for your website. Most templates, especially ones in the same family, have similar functionality. So, if you see a design element in one template, use it as inspiration to recreate it in another. And if you need a little help along the way, give us a shout!